After Phil's great comment on this post, I thought it would be a good idea to re-post Alan's original article with the video Phil suggested.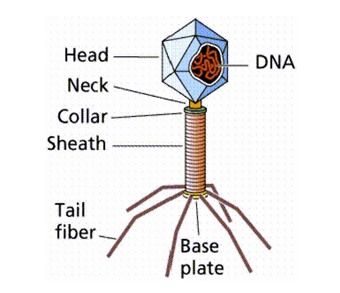 Deskarati's good friend Alan Mason advises us about Bacteriophage. – As a well-known problem persists, whereby current anti-biotics  are proving ineffective against pathogenic bacteria that have evolved resistance to them, Bacteriophages could provide an altogether different technology for tackling bacteria pathogenic to humans, their livestock and their plants. So what are Bacteriophages? – They are naturally occurring viruses which prey on bacteria alone.
Anti-biotics work by disrupting bacterial metabolism, but also have side-effects so that some people are allergic to them. By contrast, bacteriophages are a magic bullet which only attack the bacterium and they are quite specific to one bacterial species alone. A further problem with anti-biotics is that they can also disrupt the "good" bacteria which are a normal, and indeed essential part of the human gut flora.  Bacteriophages will not do this.
Even more important is the fact that it's possible to breed new kinds of bacteriophages in a few weeks with relatively low-cost research, compared with producing new anti-biotics with high-cost research taking several years to a decade.  Essentially, by using bacteriophages we can keep up with the evolution of bacterial resistance, whereas with antibiotics we inevitably lag behind.
It appears that the Russians have spent more time, effort and money on 'phage research than the west has ever done.  Alan suggests that it is the resistance of drug companies to a technology that is relatively cheap and which would ultimately spell the end of an era of prescribing large amounts of expensive anti-biotics, that are holding back the development in the west. See more from Alan Mason here.