Anna Maria "Marie" Tussaud (1 December 1761 – 16 April 1850) was a Swiss artist known for her wax sculptures and Madame Tussaud's, the wax museum she founded in London. She was born in Strasbourg; her father, a soldier named Joseph Grosholtz, was killed in the Seven Years' War just two months before Marie was born. Her mother, Anne-Marie Walder, took her to Bern where she moved to work as a housekeeper for Dr. Philippe Curtius (1741–1794). There she took Swiss nationality. Curtius was a physician, and was skilled in wax modelling, which he used to illustrate anatomy. Later, he started to do portraits. Tussaud called him uncle. Curtius moved to Paris in 1765, starting work to set up a cabinet de cire (wax exhibition).In that year he made a waxwork of Louis XV's last mistress, Madame du Barry, a cast of which is the oldest work currently on display. In 1767, Tussaud and her mother joined Curtius and also moved to Paris. The first exhibition of Curtius' waxworks was shown in 1770, and attracted a big crowd. In 1776, the exhibition moved to the Palais Royal and, in 1782, Curtius opened a second exhibit, the Caverne des Grands Voleurs, a precursor to the later chamber of horrors, on Boulevard du Temple.
Curtius taught Tussaud the art of wax modelling; she showed a lot of talent and started to work for him. In 1778, she created her first wax figure, that of Jean-Jacques Rousseau. She later modelled other famous personages, such as Voltaire and Benjamin Franklin.
From 1780 to the Revolution in 1789, she taught art to the sister of Louis XVI. Members of the royal family were so pleased with her work that, on their invitation, she lived at Versailles. In Paris, Tussaud became involved in the French Revolution and met many of its important figures, including Napoleon Bonaparte and Robespierre. On 12 July 1789, wax heads of Jacques Necker and the duc d'Orléans made by Curtius were carried in a protest march two days before the attack on the Bastille.
Tussaud was arrested during the Reign of Terror together with Joséphine de Beauharnais; her head was shaved in preparation for execution by guillotine. But thanks to Collot d'Herbois's support for Curtius and his household, she was released. Tussaud was employed to make death masks of the victims of the guillotine. When the mob stormed the Bastille, Madame Tussaud was forced to make death masks of the revolution's most infamous dead such as Louis XVI, Marie Antoinette, Marat, and Robespierre. Her death masks were held up as revolutionary flags and paraded through the streets of Paris. Soon, Madame Tussaud was searching through sanitaries collecting the most illustrious heads she could find.
When Curtius died in 1794, he left his collection of waxworks to Marie. In 1795, she married François Tussaud. They had two children, Joseph and François.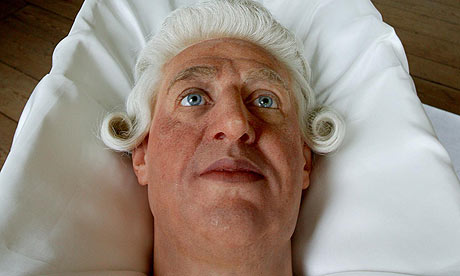 In 1802, Marie went to London together with Joseph, then four years old, her other son staying behind. As a result of the Napoleonic Wars, she was unable to return to France, so she travelled with her collection throughout Great Britain and Ireland. In 1821 or 1822, her other son, François, joined her. In 1835, she established her first permanent exhibition in Baker Street, on the "Baker Street Bazaar". In 1838, she wrote her memoirs. In 1842, she made a self-portrait which is now on display at the entrance of her museum. Some of the sculptures done by Tussaud herself still exist.
She died in her sleep in London on 16 April 1850. She was 88 years old. There is a memorial tablet to Madame Marie Tussaud on the right side of the nave of St. Mary's Roman Catholic Church, Cadogan Street, London.
Via Wikipedia